Stress & Rescue - 2 days course
3 days of accommodation included!
Depends of availability – private room with air condition, private room with fan, dorm room
Diver stress is a major cause of diving accidents, but it can easily be prevented and resolved. Join the SSI Diver Stress and Rescue Specialty program and learn how to help yourself and other divers stay safe.
Ready to start your stress & rescue course?
Feel free to contact us via contact form, Facebook, WhatsApp, Line to book your first diving with us
Start your Diver Stress and Rescue Specialty adventure
Stress is a major cause of diving accidents and negatively impacts rescue situations. This course teaches you the skills and knowledge required to recognize and deal with stress, prevent accidents and properly deal with emergency situations encountered by divers. You will earn the SSI Diver Stress and Rescue Specialty certification after completing this program.
Scuba divers describe the SSI Sress & Rescue course as the most challenging, yet most rewarding course they've ever taken. Why? Because you learn to prevent and manage problems in the water, and become more confident in your skills as a diver, knowing that you can help others if needed. During the course, you learn to become a better buddy by practicing problem solving skills until they become second nature. Plus, the course is just fun – it's serious, but still allows for lots of laughter in between the focused learning.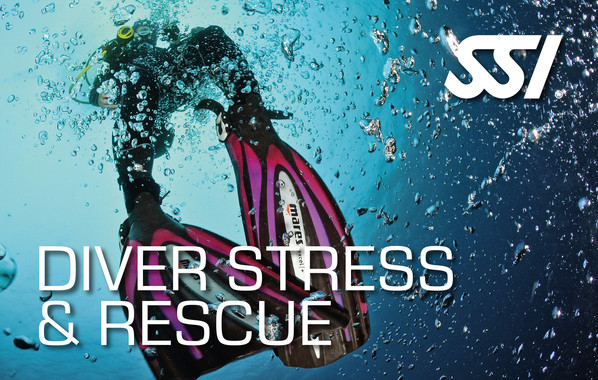 REACT RIGHT - COURSE COMBINATION
React Right is SSI's emergency first response course and provides you with the training and knowledge you need to act as a first responder in a medical emergency.
In this flexible dive program, you can choose which subjects you want to learn about, including primary assessment, first aid, CPR and primary stabilization techniques. You can also learn about oxygen administration in diving emergencies and Automated External Defibrillator (AED) basics.
Using a combination of academic sessions and practical training scenarios, this program will give you the tools and confidence you need for emergency response. By the time you are certified, you will be able to act as an emergency first responder, provide first aid and CPR, administer oxygen and provide AED support in a medical emergency.
Earn your SSI React Right specialty certification. Get started today!
No you don't. If you already have a first aid license, it can be validated if  it is not less than 1 year old.